Magic Kingdom
---
Automatische diashow van de foto's op deze pagina
---
SHOWS
Cinderella's Surprise Celebration
Share A Dream Come True Parade
"SpectroMagic" Parade

ATTRACTIES:
Cinderella Castle
The Enchanted Tiki Room
Jungle River Cruise

OVERIG
The Magic Behind the Steamtrains -Tour
Magic Kingdom bij Nacht
Wishes™ Nighttime Spectacular
Karakters

Plattegrond

---
Een eerste blik op het Magic Kingdom vanuit de Monorail
De veerboot over het meer, en het Grand Floridian Hotel en de Trouwkapel voor het Magic Kingdom
Station Mainstreet
Mainstreet USA
foto/videosessie met een bruidspaar voor het kasteel
Cinderella's Wensput
het schaduwrijke voorleeshoekje
posters bij de entree van Philarmagic, de 3D show van het Magic Kingdom
)
Liberty Square
INTRODUCTION
Located in Liberty Square in the Magic Kingdom, the Hall of Presidents is an original Disney classic first conceived of by Walt Disney himself. The attraction is derived from "Great Moments With Mr. Lincoln," which premiered at the New York World's Fair in 1964.

ATTRACTION
Hall of Presidents -- The lobby of this beautiful theater is filled with portraits of the presidents. You enter the darkened, 700-seat theater and first view a patriotic film in which specially produced paintings are projected onto a screen that stretches about halfway round the theater (180 degrees). The film covers much United States history, focusing on the origins of the Constitution and the presidency.

At the conclusion of the film, the screen parts to reveal a stage filled with lifelike Audio-Animatronics versions of each and every one of the US presidents. Each of the figures moves, nodding a head or gesturing in some way, as their names are called. The program concludes with speeches given by our current president, George W. Bush, and the 16th president, Abraham Lincoln, who actually rises from his chair.
---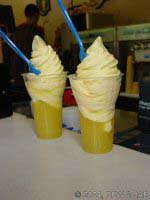 Dole Whips: Ananas Softijs met vers Ananassap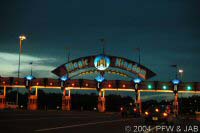 ---